Ski Alpe d'Huez
Enjoy the Grandes Rousses Massif and Pic Blanc at 3330m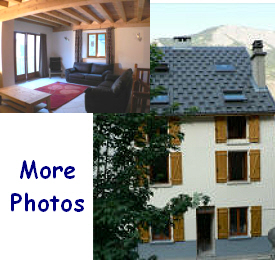 Plenty of high-altitude, snow-sure skiing from before Christmas until after Easter"
"Recommended for skiing for all standards, snowboarding, off-piste, family, cross-country, eating out"
Ski Club of Great Britain
Alpe d'Huez ski resort
If you wish to ski the longest black run in Europe head to Alpe d'Huez and the 16kms, 'La Sarenne'. You'll have to be an advanced skier to start the run and also to finish it as there are no exit routes on the way down! Should your intentions be a little less ambitious the 39 green runs of Alpe d'Huez should meet your needs.
Alpe d'Huez is one of the top five alpine resorts in France and an ideal resort for skiers and snowboarders of every level. Set against the back drop of the impressive scenery of the Grandes Rousses Mountains, it boasts an excellent snow record and weather conditions. There are now some 700 snow canons ensuring that the season is long and skiing is as uninterrupted as possible.
Alpe d'Huez is one of the highest resorts in the Southern Alpes at an altitude of 1860m. It is served by 240 km of pistes with 88 inter-linked lifts. The Pic Blanc cable car takes you to the breathtaking Pic Blanc Glacier at 3330m, the start point for a number of off-piste itineraries as well as 'La Sarenne'. A large viewing platform allows you to enjoy the magnificent panorama before setting out on one of the 19 black runs and some of the most testing terrain in France.
The Granary House
Laalshippy Cumbria.
Stayed June 2008
David, Helen, Sams and Moff spent a great week based at the Granary House doing the Cols of the Tour de France. Excellent base for such a trip - close to shops, bars and restaurants, but not too close. Well furnished and equiped with everything thought of to make a week's stay a memorable experience.
---
The Stable House
Linda
from
Suffolk, U.K
Stayed February 2008
This is a beautifully renovated spacious home. The decor is modern but still boasts the 19thcentury stone work to the kitchen/diner area. The house was clean and fully equipped with ample modern facilities, including a large flat screen TV, DVD player with even a few films to entertain. The location of the house is very central to Alpe d'huez and Les Duez Alpes. It took us 15/20mins drive to Alpe d'huez; we took a large picnic each day and sat to enjoy some of the many days sun that this ski resort has. We have previously always hired accommodation in the resort of Alpe d'huez and felt very nervous to stay in Bourg d'Oisans, we were very pleasantly surprised to find little effort was caused to drive to Alpe d'huez each day, in fact we stayed in a larger property at the fraction of the cost and parked right beside the ski lifts and buttons, so in many ways we gained staying at Bourg d'Oisans. Les Duez Alpe is a 20/30mins drive from the house which gave us the opportunity toski both resorts if we had wished to, and I'm sure the Visalp pass allows you to ski both, so why not get your monies worth! I would definitely recommend this property to family and friends and will most certainly be returning. The owners provided excellent customer service and we had a lot of communication throughout, answering any questions or queries that we had. In summary we had a great stay in the house and a fantastic week of skiing with 6 days of brilliant sunshine!
---
The Stable House
Janey
from
Cambridgeshire, England, U.K
Stayed March 2008
Just spent a week at The Stables at Bourg d'Oisans with my family.
What a lovely new rental accommodation.
There were nine of us. Eight adults and one child. The accommodation was more than ample for us with 4 bedrooms, a super sized lounge and a spacious Dining area,
All new fittings including a TV for the use of an X-box (which kept the boys happy).
The village itself was picturesque with plenty of touristy shops, restaurants and many varied Pubs..
The locations was perfect for the quick car journey to Alps d-'Huez and Les Deux Alps where we spent many perfect days Skiing.
Highly recommended.... We hope to return
---
The Granary House
Nicko
from
Bournemouth, Dorset, U.K
Stayed February 2008
We stayed at the Granary from the 2nd to the 9th Feb, with a group of 10 for a boarding/skiing trip. I can HIGHLY recommend this accommodation on all levels. It's VERY well finished, clean, warm and cosy to boot. It had everything described and even though we had a large group, there was still plenty of space..(only minor downfall was the utility/ drying room was a little small for all our kit)..The town itself can be quite quiet, but this was something we were after...It does provide all that's needed though, is plenty of great restaurants, along with a small supermarket nearby and a larger one on the outskirts of town...We took the 30min bus ride each day up to Alp D` Huez..(bus station 5-10 min walk away)..but found the timetable a bit limited for us..(it leaves every hour or so however the last bus leaves resort at a fairly early 17:30)..we'd say hire cars are a must if planning to stay for evening drinks/meals in resort after a day on the mountain. Overall is fantastic value and excellent quality accommodation, also now the "Stables" is completed I can safely say we will be returning next year, probably booking both houses for a bigger group of 15-20 of us, HIGHLY recommended.
---
The Stable House
Fredie
from France
Stayed February 2008
We passed an excellent week, the house is inspired, and superb. We preserve your address preciously
---
The Granary House, 2007 Visitors
Karen
stayed
April 2007.
Well we had a lovely holiday in the granary house. The house was splendid
and the snow was great. Only problem was a bit of sunburn and tired legs. So
many thanks.
---
Huw stayed Feb 07
'Thanks again for everything. i would definitely recommend your house to anyone'.
---
Steve and Lou stayed March 07
'The house was fantastic, very comfortable and location couldn't have been better. We thoroughly enjoyed our stay'.
---
Jen stayed March 07
'You have a gorgeous house and we had a great holiday
---
Graeme and Carol stayed August 07
'Thankyou for letting us stay at your wonderful house. As soon as we arrived we felt at home and we really didn't want to leave. The people in Bourg are so welcoming and we will definitely be back'
---
Mike plus 7 stayed July 07 –
'What a perfect place. Really close to the bars and restaurants but comfortable enough to happily have a few quiet evenings in after a day in the saddle. We expect to be back with a bigger group when the Stables is finished'
---